Voicemail Greetings – Music on Hold
Terms & Conditions
Voicemail Greetings – Music on Hold
Terms & Conditions
Since we are a part of SpeakOnline, you can read our full terms and conditions at our web site SpeakOnline.studio.
…however – here is a short excerpt of our Terms & Conditions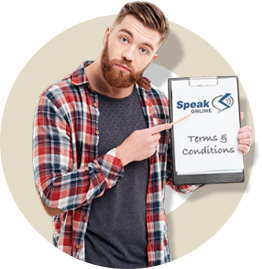 How am I allowed to use the voice over recordings and the music on hold?
When you have received your speaks or music on hold, you are allowed to use them for as long as you want. But you are only ab
le to use the speaks/music for the company that has purchased them – and only for one telephone system (unless you have purchased the right to several systems).
Music on hold and speaks are only for use on company telephone equipment. All other use (web, PowerPoint etc.) is not permitted.
If you should later need to use speaks or music on hold on several systems, we offer outright purchase of the material. Please ask us for further information.
Pronunciation and 'difficult words'
When you place your order, you are responsible for telling us how your company name or other names/products etc. should be pronounced. For this reason you should call us within 15 minutes of placing your order and leave the correct pronunciation on our answering machine: (+45) 69 14 24 12. Otherwise we cannot be held responsible for correct pronunciation – and a new recording of your message will cost 75% of the full purchase price.
When ordering your speaks, it is a good idea to let us know about the style you require for your speak, e.g. happy, serious, neutral etc.… Please enter this in the Comments field on your order.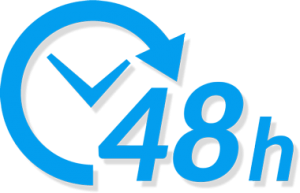 Delivery time
On weekdays you can expect to receive your speak 24-48 hours after placing your order. We are able to speed this process up – for an additional fee – if your speak is urgent. Please let us know if this is the case in the Comments field on your order.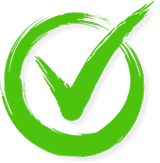 Approval of voice over recording.
When you receive the sound files you have ordered, it is your responsibility to listen to them and check them for errors within 48 hours (two business days) of receipt. If the voice over deviate from the manuscript provided, any corrections will, of course, be at our expense. Should you, on the other hand, discover an error in your manuscript – or if you simply want to make general changes, we will charge 75% of the full purchase price for implementing these changes. If we are not notified of an error within 48 hours of receipt, the order will be regarded as complete and approved. Any subsequent corrections will then be processed as a new standard order.